Dear Pervaiz,
Thank you for sharing a "pawtographed" copy of your book , Trauma Redefined.

The detailed account of your horrific experience reignites the faith and trust in God, which one sometimes loses especially in times of despair.

Whichever hospital you graced your presence with, kudos to their medical teams.  Hats off to your family, specially to dear Maz whose nerves of steel, faith in you and perseverance, held everyone together.

As for you, words don't come easy…………your faith in God, prayers, angels and your positive attitude, not forgetting the sense of humour which very few would have at a time like this, is highly commendable.

You defied hell, and heaven was not ready to have you. Your loved ones needed you here.

Look after yourself and don't take life for granted, as you say yourself.

May the Lord's choicest blessing be on you always. He did shower you with many, but sure took his time!!!

Best wishes to you and the family

—Spenta F. Khambatta
It is a narration of personal experiences and a warning that death keeps no calendar.
In general we lose hope and have weak faith while in agony and pain.
This book is acknowledged especially for the distinctive demonstration of not only strong will-power but also the power of strong faith, strength of love, affection of family and the support of colleagues and co-workers.
We are all grateful for our lives.
Mrs.Rehana Aziz (Retired school teacher)

The beauty, of Pervaiz Taraporewala's book Trauma Redfined _ In God's Cradle, lies in the simplicity and honesty with which it is witten.  A true and inspiring account of life-altering events.  A story of immense courage, of resilience, of lessons learnt, of humility, of love, hope, faith and gratitude! 

One fateful night, out of the blue, a most cruel and unfortunate event befell the author.  A catastophic accident started it all _ a long, traumatic ordeal for Pervaiz and his dear ones.  A walk through hell and back and how he handled it, is nothing short of amazing and most admirable!  Throughout his ordeal, the author draws on his inner strength from the well within him.  In the midst of the disastrous accident, terribly injured, lying on the road in the black of the night, and unable to move, Pervaiz uses his presence of mind and fights to keep himself conscious.  Arming himself with positive self talk, the author faces the entire train of adversity with true grit, determination and will power. 

As the story unfolds, revealing Pervaiz's indomitable spirit and a sense of humour, it takes the reader on a roller coaster experience of deep valleys and peaks of despair and hope!

An amazing story of triumph of the human spirit and Divine Grace!  A book worth reading from cover to cover!"

NILOUFER IRANI
"This is a story about resilience, hope & survival.
The author narrates his experiences through a terrifying life changing chain of events, simply and straightforwardly.
What makes this book remarkable is not just what happens, but how it encapsulates the journey, the deeper transformation, the transition from humored despair to acceptance and the struggle(s) into a form that makes the experience a larger truer lesson in resilience of the human spirit."

Review by Raghav Budhraja
"Trauma Redefined by Pervaiz Taraporewala is a book that is difficult to put down. The story is a riveting one, that sends the reader on a roller coaster of emotions. One experiences pain, despair, grief, joy, hope, belief and a little bit of humour all at once while embarking on this reading journey.

Throughout my time spent reading this book, I found Pervaiz to be a true source of strength and inspiration despite all the odds that were stacked against him. The importance of faith and perseverance is highlighted repeatedly in this read. Apart from this, Trauma Redefined also goes to show how crucial it is for someone to have a strong family institution as their backbone and support in difficult times.

I highly recommend this book for anyone looking to restore hope in life and little miracles. This book has indeed had me captivated from beginning to end. Thank you Pervaiz for taking me on a journey of courage and strength and may you do the same for many more readers to come."

Review by Kashif Ansari
I had read many novels, and to my uttermost surprise "Trauma redefined" (unlike other novels) had compelled me to recollect all the instances where God had been throwing pebbles at me ad i was too busy to notice them. While reading the book I was completely into the situation as if it was all happening to me. As if i was struck twice, i had those 28 broken bones, multiple organ failure, the hallucinatioms, not being able to communicate, and finally pulling out that tube from with in myself. I know it was a lot more than what i have written but I am not as good as you when it comes to pen down life!

I was urged to read the entire 232 pages with in two days and now at 02.26 a.m, I am writing this para to show how touched I am after reading the masterpiece.

My well wishes to you and your family who had been the pillars for you to built the bridge to get to life again.

You are a strong person. It takes shit lot of guts to get out of such situations alive.

Ardavan, I must say he has excellent command when it comes to writing. My blessings and well wishes to the young man.

All the very best of luck!

Review by Salva Majid Farooqi
• The book was surely mind blowing. The humour used in each and every sentence was truly admired. When I started reading, I could not stop. Actually, I did not want to stop; whether that was exiting the train station because my stop had come or whether it was mid night and my eyes were closing. The book has a charm especially when my dear uncle, my best friend and a fatherly figure like Pervez Tarapore described his trauma in such a unique way. I just wish I was there to make him feel better at the hospital and at his home, so I could be one of his strong pillars to help him recover faster in his long, tiring journey to the wadis

• I sometimes still wonder whether Meher and two Pervez figures were for real?

• Hanging out at the nurse's workstation was classic.

• I strongly believe that one of the main reasons is Pervez's loving, caring and funny personality which did the trick to heal himself quicker

• Now that I am in Dubai, I would want to be in his company more often. Thank you for the love and respect you have always shown. You are my role model

Review by Narius C. Magol.
Trauma Redefined by Pervaiz Taraporewala is a story of a real life tragic incident which befalls him and his family.

An emotional roller coaster ride of despair, frustration, pain and above all hope and faith.

The first chapter is a riveting one – the amavas night, where it's believed to this day, by a lot of people, that it is the dark night and nothing should be planned as the devil is at his best on this night. It entices the reader's imagination to continue reading.

We see many facets of humanity in the continuing pages:
The drunken car driver who knocked him down and to top it, reversed and crushed him again and then sped away without compunction.
The thief who comes, looks at Pervaiz, thinking him for dead, snoops around and snatches his phone which was his only lifeline.
The two rescuers who turn out to be his angels and do the needful.

The harrowing drama continues for Pervaiz on the road with his out of body experience, his fight with his God to give him his life back and for many months to come in the hospital. His morphine induced hallucinations are eye openers. His arguments with his doctors and nurses are sometimes laughable but their dedication is remarkable. The very fact that he wants to get off the morphine as it's playing havoc with his mind speaks volumes of his sheer tenacity to overcome all that pain and to get well on his own terms despite all odds.

Reading the ordeal that his wife and young children went through is heartening and their strong bond and positivity became their lifeline.

The absolute devotion, the faith and the prayers of his loving wife, children, his parents, his mother in law, his brother's family, his relatives and the many friends around the world makes us believe that where there is life, there is hope and to be positive that this too shall pass.

As you said Pervaiz, it was a kick for you from the Almighty but He also gave you everything back. Be blessed with good health and may you always be surrounded by your loved ones.

Meher Doctor
Loved reading your book! Finally…..

Having gone through those days with you and the family, the events described by you were palpable as I read through. Could not put it down till I finished it. Read through till 3:30 am. Unimaginable that all of this happened and you emerged once more from the fire….

A true Phoenix. Bless you!

What is even more amazing is to hear you bless and release the person responsible. Such is the way of the world in the new energies.

We are all blessed to know you.

Blessings and Love always,

Zarine.
Trauma Redefined.
Author: Pervaiz Taraporewala.
Book review by Armaity Aga.
My cousin Pervaiz Taraporewala has written a book titled Trauma Redefined.  It is a very captivating book. I started reading it and could not put it down till I had read 3/4ths of it. The second day finished the rest.


The book is about his horrific accident he met with in Dubai where he is residing with his loving wife and parents, mother in law and  adorable children.


 Pervaiz is a very carefree  person. Since his childhood he is interested in nature, flora and fauna.


On 10th October 2008 he bade goodnight to his family and went for dinner at his friend's place. His late  mother-in-law who was staying with them forbade him not to go as it was amawas (night of no moon). He did not pay any heed and went away.


He had a wonderful time with friends and finished quite late.  It was a dark night his car was in the space of an under construction building. He tripped and fell on the pavement and hurt badly. He could not get up. In the meantime a fellow came and saw his mobile on the pavement, pocketed it and went.  He was flabbergasted. Just then he heard a van approaching. He thought may be he will stop and help. To his utter surprise he just did not stop and ran over him. To top it all he was drunk. There was a dead end so he reversed and went over him the second time.  How very uncouth of him.

Two people saw him lying on the road in a pool of blood. They called the police and he was shifted to hospital. His family was informed.  They rushed to hospital.


God is great. Miracles do happen. Inspite of his severe injuries he survived.  Luckily his brother and his wife and family were also in Dubai. All of them left no stone unturned in  making him well.  His parents were in Karachi and they flew to Dubai to be with him.


It is very interesting and scary to read his hair raising experiences of the hallucinations.  He suffered a lot but all because of his and his family's positive attitude and faith in God he came out of it and now he is hale and hearty.


Hats off to Ardavan his son who has edited his experiences and finally they managed to have the book published.


The best part is that

100% of the proceeds are going to charity.  Well done Pervaiz.


God bless you Pervaiz and your loving family. May you live a long and happy and healthy life. Amen.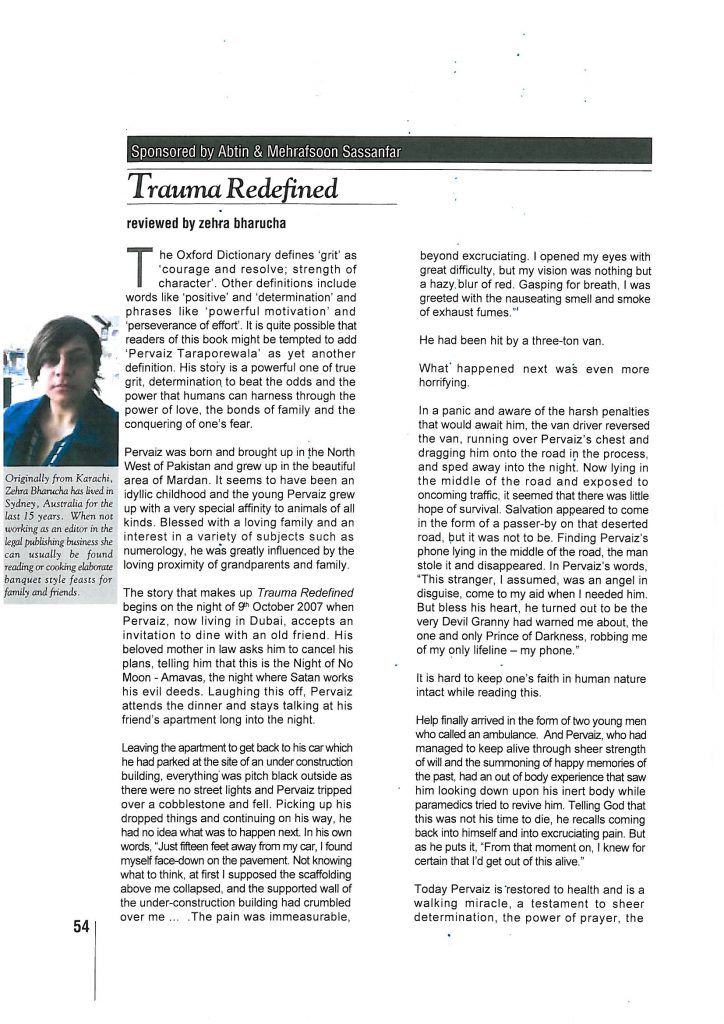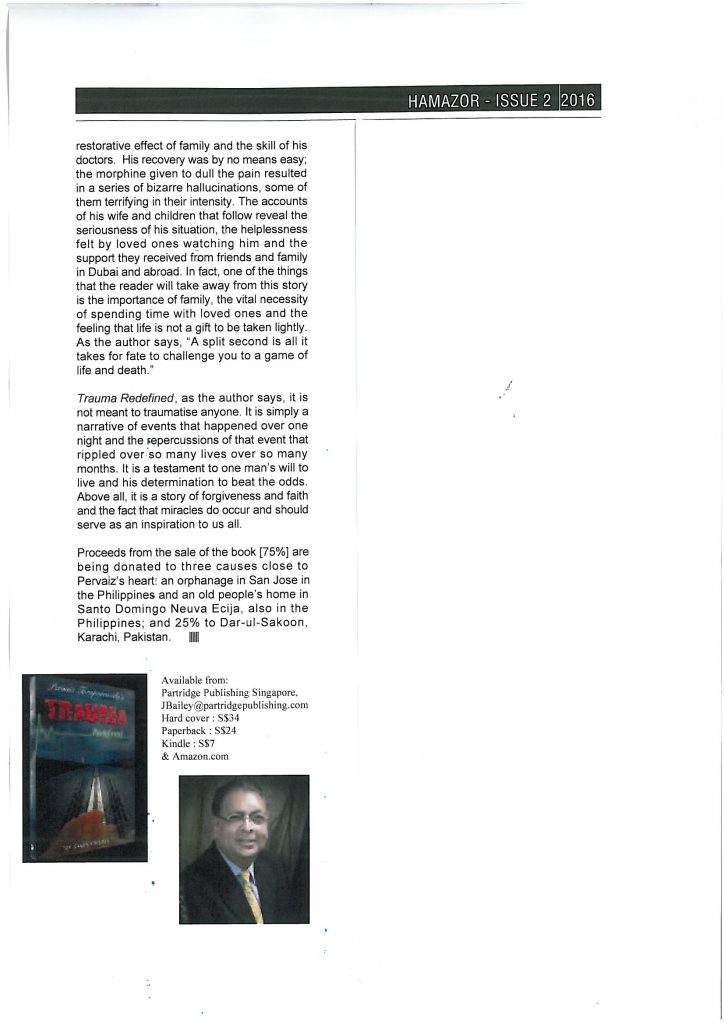 Mustafa Asghar Ali: Well
Pervaiz…..
1. Amavus. No myth of our elders…..it is there…..
Negative forces do react……
2…in a blink of a second we human beings realize our capabilities….well how feeble we are….our Strength our bravery all vanishes…
3. The crude realities of our brother human beings…..No consideration …The man in Shalwar kammez took away the Cell phone and went away…
4. The inner strength of yours and faith in Ahura Mazda and will power makes u to do the unbelievable….
5. The truly loved ones always stand by you…
Your wife daughter…family relatives…..
6..Your and their will power….in the Hospital….and after u were discharge….The true love of your wife….
7. Sometimes we take Children lightly…and when your son consistently insisted on the foul smell when u opened …..that Saved your life again….
And finally enjoy every moment of our life….
With complete Submission to the almighty…..A man is not even sure about his next breath….so on every breath we take thank the almighty for the unlimited countless bounties of the almighty..
We are nothing but still we think that are something…
We cannot guarantee of our existence for the next breath…….
So be thankful…and totally submit…to the almighty…..
For providing us truly lovely ..dependable life partner. And sincere relatives and friends.
To all the lucky readers …. this is a review of "Trauma Redefined" – by Pervaiz Taraporewala.

This review would start with a serious question! Do you believe in Miracles? Yes – I do.

I have met one miracle in a October night. So, I begin by saying: Once upon an mavas (moonless-night) … one life took an unexpected stay. Lanes changed. The journey of life on that dark road did not come to an end, but merely a stay for change! This life journey was well and fully equipped with precious, great and magical memories and values.

One belief now stands strong: "hang on to life", it is too precious to waste even if it was fading and hopelessly slipping away.

This life was struck with three quakes that amavas night. The first shook the body vigorously and rocked it down on the ground (the van's double hit). The second was a strong aftermath that did not grace consciousness a single moment; but only aroused mystery to a point of materialization and played a cinema-scope scene that cannot be watched in any theatre in the world (the out-of-body). Not testing any patience of that soul, the third quake stuck vividly taking back that amazed and jaw-dropped soul back on track to continue the journey (back to body).

During this paradox, the confused soul received a beautiful bluish-green visitor with beautiful wings; a welcomed healer, who gave comfort. Yet, another wondrous mystery. Another winged visitor came along with great might and healing skill. These; dear readers are not hallucinations .. No. Great values in life we have to keep our eyes wide open, not only eyes, but hearts, minds and wits too, and value why we have come to learn them.

At many moments while I was reading, I felt the same feelings and pictured all what was described. I enjoyed all the wits. It may seem strange, but when I reached the chapter where the bluish-green bird entered the room, suddenly a dove entered my balcony and stepped into my hall where I was reading. Happy to see such lovely creature, I did not question the coincidence but enjoyed and praised it.

The Excalibur may by a slayer, but it can also be a healer's tool, so worry not at all. That too, is another lesson learnt.

So, the readers will explore each mystery, change perceptions, learn not to take anything for granted, no matter how small they may seem, never ever!
When I met the writer, dear Pervaiz, he struck my shoulder tenderly. It felt an electrifying touch, but in all ways tenderly caressing the soul. It was not a human hand because it touched my soul from inside. Had I read the book first, I would have understood that touch, but now, once I read the book from leaf to leaf, I was totally amazed and chilled with the comfort of the meaning of that wonderful small touch! Yes, a gentle gesture of kindness can put senses back into a lost soul.

After reading, I wonder why Pervaiz calls his journey a "Roller-Coaster ride". I totally disagree with this description. The mystery of miracles was revealed a number of times in this journey. Pervaiz was the lucky one to see them all and speak of them. In other words, while struggled through his treatments' ordeals, we were being taught a great lesson about life. To summarize, reading clearly mentored and educated me on many values in life and, as such, appreciated every word and sensed every agony and enjoyed every joy. Two precious lessons I learnt from this book, tolerance with good and sincere will, and the meaning and value of love … these two lessons would take you successfully through your life.

As Pervaiz said: life is too good, he also proved it.

Now, I am much more honored to have met a real mentor who was mentored by fate itself and who have mastered the journey set for him with an openly beautiful soul and genuine good faith.

Thank you Pervaiz for letting me into this journey and educating me with this most valuable lesson.
Lamia ( Arzoo ) Gomaa.
Attorney-at-law
REVIEW of "Trauma Redefined"

An inspirational true life account of a man's struggle for survival despite tremendous odds and his determination to return to normality aided by the love and devotion of family and friends around him. A miraculous and triumphant escape from the jaws of death.

This book keeps the reader spellbound from beginning to end.

Dr Homi P. Nanavaty
REVIEW of "Trauma Redefined"

The pleasure of buying your book and got your autograph, your fabulously narrated and written story, is a gift that I will cherish till I am going to live.

I am so inspired with your book that every time I feel down, and have a rough day at work, or day to day stresses of our lives, gives us second thoughts about life.

Reading your book gives me strength and lifts my soul and reminds me that Life is Beautiful and no matter what, we must never give up .
Your book is an inspiration. God Bless you!

Love and Regards,

Jal S Divecha
Having read Pervaiz Taraporewala's book 'Trauma Redefined' lately in one sitting, I have to stop and rethink about God and life. We need to slow down and appreciate our family and those around us. God does not give everyone a second chance.

The author has sent us on a nail-biting ride through the most harrowing experience of his life. I cringe at the part where he is advised by the doctor to pull the tube out on his own. Bless the two angels who came to his rescue. Would the driver who ran over him twice have no conscience? Nor the man who walked away with his phone?

I wish I could have read the uncensored version of the book.

I am so glad he is well and here with us to tell his tale. May none of us ever experience what he went through. Salute to his dear wife and loving children and family to have stood by him and helped him back to life. God is great and He has other plans always.

Pervaiz you are a role model for trauma victims and those of us who want to re-build their lives back. May the Almighty bless you!

Zarnak Sidhwa
I read Trauma Redefined with great compassion and yet disbelief on the intensity of Pervaiz's injuries. His full recovery was truly God's miracle. I am unable to fathom his discomfort and misery he faced but nowhere in his composition is he complaining or moaning but he pulled along, there is a touch of humour in his writing, how he accepts all that falls into his path of recovery, what a supportive close knit family and circle of friends who adore & gave him purpose to struggle and survive. What deeply touched me was his decision not to hunt the one who put him through this painful ordeal, very few would do what he did to simply not pursue the matter. Following the accident the author began to appreciate the importance of slowing down his pace in life and to give more time to the family. A book that reflects Pervaiz's will to persist & survive, it can happen to anyone but not all can cope the way Pervaiz did !!

Review by Jasmin Kharas
Dear Mr. Pervaiz,

I am still lost for words to express the emotions I went through while reading the book. How in this one life someone can go through such tragedies and still stay so POSITIVE!

When I met you in person before reading this book, I have not had even an iota of imagination of what you have gone through. You bring so much of energy and life in and around you that it will be difficult for anyone to fathom the trauma you lived through during those days. The book is certainly an inspiration for me and will always stay close to my heart.

Regards,

Mr. Karunesh Singh
CEO of Ms Orient Links in Dubai
Dear Mr Pervaiz

What a fine read….TRAUMA REFINED!! Or shall I say it, miracles DO happen and hope and faith reinstated?

Written so beautifully that I could actually be there scene by scene, day after day, till the end. Could feel the pain and your wonderful sense of humor did make me feel lighter in the betweens.

Throughout this roller coaster ride, it almost appeared like a movie!!
Off n on i had all my expressions…. smiles, grin, frown, despair, happiness, gratitude, anger.
And in the end ,the power of faith, love, hope, belief n support took over!!
I haven't met you ever, but to me you always appeared different. And now, after reading, i know YOU ARE DIFFERENT. Indeed a God's own child!! So glad to know this side of you.
Knowing you is not just a coincidence. A chord touched inside me explains it now. Making me think of life from another perspective.

A few lessons of life learned through your journey. Life can be short and unpredictable. Not everyone will be as lucky as you.

Pause…stop….think….look around. Our family , friends , smiles, laughter, blessings, prayers are the best ingredients of the finest recipe of life. Lets enjoy this to the utmost.

You are here in this world to inspire and touch people's heart. You are a God's chosen one!!!

Wishing you and your family happiness and smiles in abundance. Stay blessed always!!!!!!!
Best wishes and regards

Shilpa

Shilpa Gupta
Director Finance
PGI GROUP – Pan Gulf International General Trading LLC.,
Trauma Redefined is a captivating book and an insightful look at the incredible journey Pervaiz endured, from the time of the accident, his out of body experience and his traumatic road to recovery.  The recall of his morphine drug induced state was an interesting read along with his dear wife's experience of what she endured.   I particularly enjoyed reading the last part of the book – of the "lessons learned" from the whole ordeal.  At times we are all placed into a situation by "God" to test our faith, endurance and what we have learned from our experience.  Unfortunately, the ordeal Pervaiz had to endure to learn simple lessons in life such as forgiveness, slowing down and spending time with family, the realisation of values instilled by your parents and grandparents and the value of life should wake all of us up , make us examine our own lives and appreciate each day how lucky we are to have all we do.

Pervin Kapadia
Trauma Redefined
By: Pervaiz Taraporewala
🌟🌟🌟🌟🌟

This book is a real page turner filled with suspense and thriller plots, twists with highs and lows that will have you not wanting to put it down and trying to get to the end.
"Trauma redefined "

Guys, this book, though! Flawless and irresistible, profoundly moving and endlessly emotional. How To Save A Life is a truly unique and beautiful, asking if life and death are preordained, if our destiny is predetermined, and if some lives are meant to be saved.

As you read this book and get familiar with all the characters, you start to understand each of their trauma and how it led up to the major event of the book. You sympathize with each one of them, but you know who you want to win this battle. Well described by him in at most details and my heart skipped beats. Still i was so engrossed in knowing what happens next.

His journey and the trauma that is faced by the family too for choosing the same path as the Man is what the book describes. BRILLIANTLY stated and written about by Pervaiz Taraporewala ….

Thank you so much for the gift, this book is important – and I couldn't agree more! We need to be strong enough to validate these experiences and to learn from them.

Review from Iqra Shaheen
Trauma Redefined
By: Pervaiz Taraporewala

From the first word to the last, from the prologue to the epilogue, the prose is lucid, the storytelling vivid, infact so vivid that it played out in my dreams like a movie, last night.

TR is a must read for everyone who might be going through a similar situation in life or has a near and dear one passing through a similar phase. The book is sure to give strength, hope and confidence that there is God Almighty who always looks after each one us.

My favourite phrase in the your book, in addition to your witty one liners is one penned by Maz, it goes like this "My Heart was beating like a percussion instrument in a death metal song", man what a way to describe ones emotions.

We pray that God Bless you and your family and please continue writing on various subjects, since you are such a profound storyteller.

Review by: Ashutosh Ahluwalia
Trauma Redefined
By: Pervaiz Taraporewala

Sir Pervais Taraporewala, Sometimes in our live's we faced difficult things and we didn't expected the things will come. Maybe accidentally, but it will be God's plan. The reason why God give this situation because he wanted to know and remember him. Because of what happened to you now, your faith and loyalty become stronger.

Based on what I read to your story. Especially when you got 28 fructured to your bones. When you saw a bird to your room that is the sign of the Holy Spirit is with you. God's loves you a lot. That was a miracle to your life and God give you a second chance or life. I inspired to your story. Because of you, I'll never give up to the problems that I ex[erienced. Especially to my daughter have a sick and still strong even though she have a Rheumatic Heart Disease. Because I know that God hear my prayers. I'm crying when I read your story and I felt ghoshtbumps. Because of that miracle, I inspired to your faith in God. THANK YOU SO MUCH and GODBLESSED US ALWAYS.

Review from Elena Belenzo
Trauma Redefined
By: Pervaiz Taraporewala

I finished reading Trauma Redefined a few days back but I still can't get over it. I don't think I would have read the book if I didn't know how it ended. All I can say is, there are moments in our life where we leave God's hand. We let go and say "I got it from here my Lord", luckily God is so gracious that he doesn't move an inch. We may give up but He never gives up on us. I mean Pervez's life is enough proof of that.
If I had to sum it up, I'd say it is nerve wracking incidents that ends up in miracles ❤️

Review from Kimi Kerawalla
After easily going through the reality story narration of Mr.Pervaiz Taraporewala under the book titled Trauma Redefined, I Mr.Kum. literally without the concern of anyone Sings Praises to God for the life of Mr.Pervaiz.Trauma Redefined is made up of 14chapters the first page of the first chapter which starts with the word "Numerology "Tickles my mind to ride through this book with a great determination to get to the end of the story,just after completing the last chapter(14th chapter)I felt deep to encourage someone who's literally happy enjoying narration from books to figure out Trauma Redefined because hahaha!! This book is more of Humor, Tragedy and vocabulary of everyone's choices of interest to gaze into new discoveries of intellect. God Bless You with long life in good health Daddy Pervaiz with your Team, family, your story is that to be told to the world especially when it's without a Fiction.

– Kum Sylvanus
"Trauma Redefined" is a groundbreaking book that delves deep into the realm of healing and resilience, offering a fresh perspective on understanding and overcoming trauma.

From the very beginning, the author captures readers' attention with their compassionate and insightful approach to trauma. One of the book's strengths lies in its comprehensive coverage of the various aspects of car accident trauma. It delves into the immediate aftermath of the accident, including shock, fear, and the physical injuries that may be sustained. Moreover, it addresses the long-term effects, such as post-traumatic stress disorder,anxiety, depression, and even changes in relationships and social interactions.

One of the book's remarkable qualities is its comprehensive exploration of various healing modalities. They offer practical exercises, meditation techniques, and self-reflection prompts that allow readers to actively engage with the healing process, making it accessible and tangible.

"Trauma Redefined" is an absolute must-read. It will undoubtedly reshape your perspective on trauma and empower you to embrace your own capacity for healing and growth. I wholeheartedly recommend this book to anyone who has experienced trauma or wishes to support others on their healing journey.

– Muhammad Waleed, HBZ Dubai.